MINEX Russia Forum has been held in Moscow since 2005. It is considered to be one of the most important and authoritative events on Mining and Exploration in Russia.  The Forum regularly brings together over 500 heads of industrial companies from Russia, Kazakhstan, Kyrgyzstan, Ukraine, countries of the European Economic Community, China, Mongolia, North America, Southeast Asia, Africa, Latin America and Australia.
---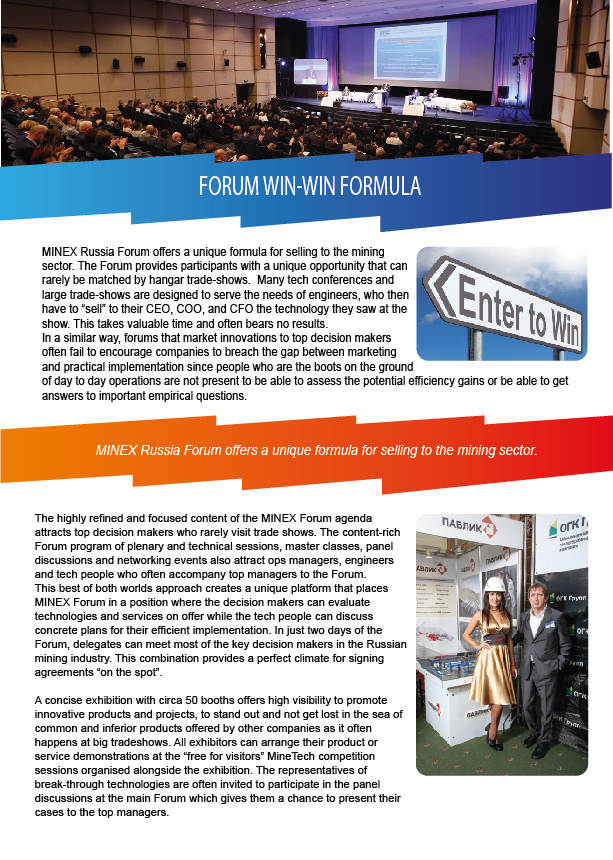 MINEX RUSSIA PARTICIPANTS
• Over 500 participants from more than 30 countries
• Over 50 exhibitors from Russia and abroad
• More than 100 talks and presentations
• About 10 corporate sponsors and partners
• More than 30 media partners
• MINEX Russia events
• Keynotes
• Pre-forum master classes and workshops
• Plenary and technical sessions
• Panel discussions and interviews
• Trade and Investment show
• MineTech competition of technological challenges and solutions
• MineVenture mining project accelerator Competition
• "Miners and Mines of Russia" photo competition
• Russian Mining Excellence Awards dinner
• Networking drinks
• Associated events
---
MINEX Russia win-win formula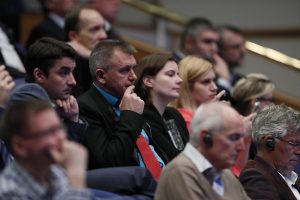 MINEX Russia Forum offers a unique formula for selling to the mining sector. The Forum provides participants with a unique opportunity that can rarely be matched by hangar trade-shows.  Many tech conferences and large trade-shows are designed to serve the needs of engineers, who then have to "sell" to their CEO, COO, and CFO the technology they saw at the show. This takes valuable time and often bears no results. In a similar way, forums that market innovations to top decision makers often fail to encourage companies to breach the gap between marketing and practical implementation since people who are the boots on the ground of day to day operations are not present to be able to assess the potential efficiency gains or be able to get answers to important empirical questions.
The highly refined and focused content of the MINEX Forum agenda attracts top decision makers who rarely visit trade shows. The content-rich Forum program of plenary and technical sessions, master classes, panel discussions and networking events also attract ops managers, engineers and tech people who often accompany top managers to the Forum. This best of both worlds approach creates a unique platform that places MINEX Forum in a position where the decision makers can evaluate technologies and services on offer while the tech people can discuss concrete plans for their efficient implementation. In just two days of the Forum, delegates can meet most of the key decision makers in the Russian mining industry. This combination provides a perfect climate for signing agreements "on the spot".
A concise exhibition with circa 50 booths offers high visibility to promote innovative products and projects, to stand out and not get lost in the sea of common and inferior products offered by other companies as it often happens at big tradeshows. All exhibitors can arrange their product or service demonstrations at the "free for visitors" MineTech competition sessions organised alongside the exhibition. The representatives of break-through technologies are often invited to participate in the panel discussions at the main Forum which gives them a chance to present their cases to the top managers.