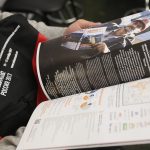 Artwork specifications for advertising modules
to be published in the "MINEX Russia 2018" Forum Catalogue
 Artwork submission cut-off date: 14 September 2018
Submission address: admin@minexforum.com
If the file size is larger than 10MB, please upload it on free file-sharing server: http://www.sharefile.com or share it via Dropbox  http://www.dropbox.com and send us the link to your file to admin@minexforum.com
NB designers: Advertising pages will be printed as centered blocks
---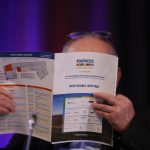 Modules should strictly comply with the following technical requirements.
Accepted formats (print quality PDF or 300 ppi CMYK TIFF)
Colour: CMYK or Greyscale
STRICTLY NO CROP MARKS, NO SPOT COLOURS (print method: digital offset)
Please allow at least 10 mm space between the text and the edge of the page
Full-page advertising block – bleed 3 mm, size with bleeds 210×297 mm (maximal text area 190 x 277mm)
Half-page advertising block – 210 (w)*148 (h) mm (maximal text area 190×130 mm)
Images resolution – 300 dpi or higher
All fonts – outlined (curves)
---

Technical requirements for company profile and logo for listing on the website and the "MINEX Russia 2018" Forum Catalogue 
Profile length (for each language) should not exceed 150 words
Accepted languages: English and Russian (if available)
All profiles should be submitted as Text or Word files
Please list URL Link to the company's website
---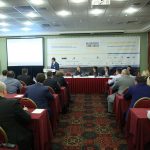 Corporate logo specifications
for printing on the "MINEX Russia 2017" vinyl banners
Company logos must be submitted in Vector Format (Illustrator or EPS) with outlined fonts (transformed to curves), CMYK colours only.
If available, please send us your logo publishing guidelines
Please note that logos saved in JPEG, GIF or BMP format are not suitable for high quality printing and will not be accepted.
---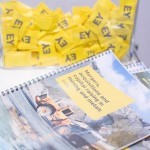 Requirements for delegate bag inserts
to be produced by advertiser
All conference bag inserts must be submitted to before 1 October
Contact person: Ms. Olga Zudina – Key Account Manager, Arbat Print
Tel +7 917-5002020 (corp@arbatprint.ru) 
For promotional flyers: size – A5 or A4, up to 10 pages, up to 150 g/m2, Quantity: 500
For gifts: weight >150 g/m2; dimensions: >3 cm thick, > 30 cm long, > 20 cm wide Quantity: 500.
---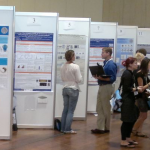 Technical requirements for Poster presentation
to be produced by the poster presenter
Poster artwork in PDF format must be submitted to admin@minexforum.com before 14 September for approval. Approved posters will be assigned with a numbered Poster Board and venue
Poster mounting: From 7 am on 3 October
Poster dismounting:  From 18 pm 4 October
Poster modules should comply with the following technical requirements.
Accepted poster formats:  Portrait / Vertical. A0, A1 or A3
Material: Plain, Coated or Laminated Paper up to 300 gsm
Poster board dimensions: 100 cm width x 250 cm height
Poster template examples: http://www.posterpresentations.com/html/research-poster-template-quick-tutorials.html