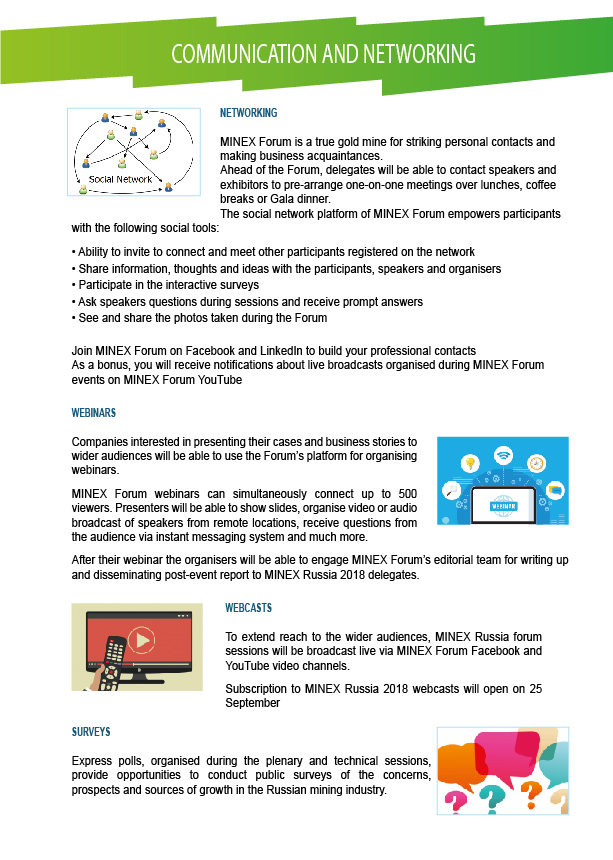 Networking
MINEX Forum is a true gold mine for striking personal contacts and making business acquaintances.
Ahead of the Forum, delegates will be able to contact speakers and exhibitors to pre-arrange one-on-one meetings over lunches, coffee breaks or Gala dinner.
The social network platform of MINEX Forum empowers participants with the following social tools:
Ability to invite to connect and meet other participants registered on the network
Share information, thoughts and ideas with the participants, speakers and organisers
Participate in the interactive surveys
Ask speakers questions during sessions and receive prompt answers
See and share the photos taken during the Forum
Join MINEX Forum on Facebook and LinkedIn to build your professional contacts
As a bonus, you will receive notifications about live broadcasts organised during MINEX Forum events on MINEX Forum YouTube
Webinars
Companies interested in presenting their cases and business stories to wider audiences will be able to use the Forum's platform for organising webinars.
MINEX Forum webinars can simultaneously connect up to 500 viewers. Presenters will be able to show slides, organise video or audio broadcast of speakers from remote locations, receive questions from the audience via the instant messaging system and much more.
After their webinar, the organisers will be able to engage MINEX Forum's editorial team for writing up and disseminating post-event report to MINEX Russia 2018 delegates.
Webcasts
To extend reach to the wider audiences, MINEX Russia forum sessions will be broadcast live via MINEX Forum Facebook and YouTube video channels.
Subscription to MINEX Russia 2018 webcasts will open on 25 September.
Surveys
Express polls, organised during the plenary and technical sessions, provide opportunities to conduct public surveys of the concerns, prospects and sources of growth in the Russian mining industry.