Speaker applications must be submitted by 1 September 2018.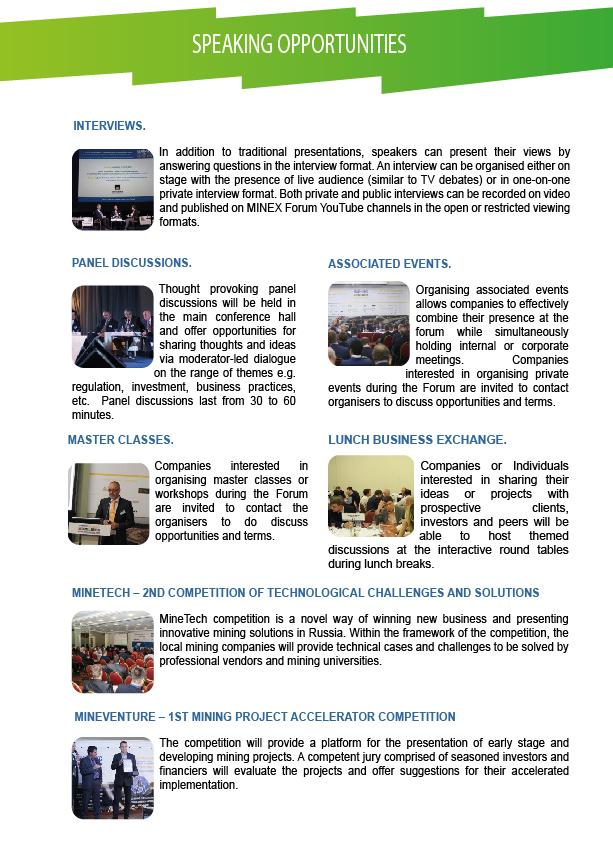 Presentation format
Participation in the master-classes and Forum 2 – 4 October
Participation in the Forum 3 – 4 October
Gala dinner
4 October
Poster presentation
Presentation in the plenary or technical session
$ 950 USD
$ 750 USD
$ 130 USD
$ 300 USD
Session moderator, panellist, interviewee
Subject to individual agreement
Project presentation at MineVenture competition
$ 1030 USD
$ 950 USD
Presentation at MineTech competition
$ 1030 USD
$ 950 USD
All presenters must pre-register for the Forum and pay registration fee unless exceptions were pre-agreed with Organisers.
NB: Speakers presenting on behalf of sponsor or exhibitor will be provided with complimentary admission in accordance with sponsorship and exhibitor terms.
DATES TO REMEMBER
In order to market presentation appearance at this event via website and advertising, speakers are kindly requested to submit speaker application forms before 10 September.
Once the application has been approved, speakers will be required to:
Before 1 September –  Arrange admission payment (applicable to independent speakers who did not register as Sponsors or Exhibitors)
Before 15 September – Submit presentation slides (Standard 4:3 format) and additional notes to be included in the delegate handout materials. Documents are accepted in PDF, Word, PowerPoint
Before 25 September – Submit slides (Standard 4:3 format) in PowerPoint (PPT or PPTX) or PDF for onscreen presentation.
If the file size exceeds 10 MB, please upload it on any file exchange server e.g: http://wikisend.com, https://disk.yandex.ru, https://files.mail.ru/  www.dropbox.com, www.filecloud.me, https://dropmefiles.com  and email the link to the file to slides@minexforum.com