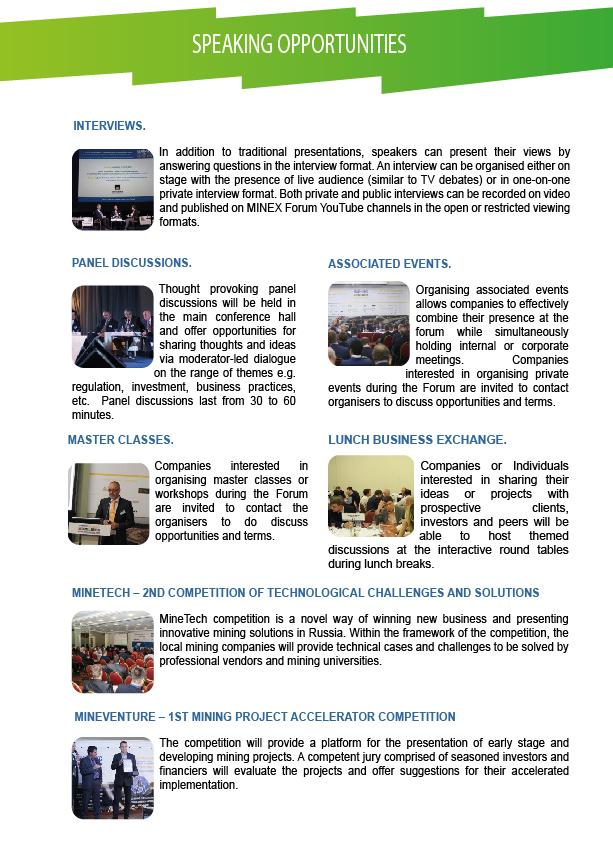 MINEX Russia 2018 Forum aims to facilitate a multilateral exchange of information and a better understanding of the on-going changes in the mining industry and opening opportunities to business partnerships, trade, and investments in Russia.
The Forum secretariat calls on national and international mining experts, analysts, investors, technology companies and government authorities to submit before 1 September abstracts to be considered for presentation at the Forum.
The Forum agenda and confirmed speakers will be announced on the Forum website once all speaker proposals have been reviewed.
Presentation at the plenary and technical sessions 
Speakers are invited to present papers on current practices, projects, investments, strategies technologies and regulatory developments.
MineTech competition
MineTech competition is a novel way of winning new business and presenting innovative mining solutions in Russia. Within the framework of the competition, local mining companies will provide technical cases and challenges. Vendors to present their solution in the MineTech business part of the competition. Mining and Polytechnic University students are invited to present in the MineTech University part of the competition.
MineVenture competition 
The objective of the competition is to provide a platform for independent evaluation of early stage and developing mining projects and to discuss opportunities for their accelerated implementation with the assistance from investors and financial backers. Mining and exploration concession holders are invited to present their projects at the competition.