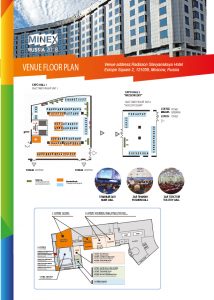 MINEX Russia Forum facilitates extensive opportunities for meeting key decision makers in the Russian mining industry. Open to visitors MINEX Russia Mining Trade Show and MineTech competition will be organised alongside the main days of the Forum on 3 and 4 October. They will provide a platform for showcasing advanced mining technologies, mining projects, services and equipment.
Venue address: Radisson Slavyanskaya Hotel, Europe Square 2, 121059, Moscow, Russia
Visitor profile
59 companies and organisations took part in the exhibition in 2017. The exhibition attracted over 1,000 specialists from Russian and international companies.
45-50 % of the Forum delegates – CEOs and company directors
35 – 45% of the Forum delegates – Operation managers and Engineers
---
EXHIBITION SECTIONS
Technical and service section
• Drilling equipment and services
• Geological survey services
• Mining transportation
• Hydrogeology and water management
• Dredging equipment and services
• Mining construction services
• Mining software and 3d
• Associations
• Research Organisations
• Government institutions
• Mine Blasting & Explosives Technologies
• Mine automation and digitisation
• Mineral processing equipment
• Green mining technologies
• Exploration and geophysical survey
• Exploration data management
• Mining planning and modeling
• Mining Consulting Services
• Law firms
• Universities and Colleges
---
Investment section
•  Major mining companies
•  Exploration companies
•  Financial institutions
•  Mid-size mining companies
•  Investment companies and Funds
•  Investment Banks and Brokers
---
Poster section
A poster wall will be organised the exhibition offering participants additional opportunities for the presentation of research projects and business proposals.
---
Message board
Message board divided into themed sections will provide free opportunities for advertising services and business matching.