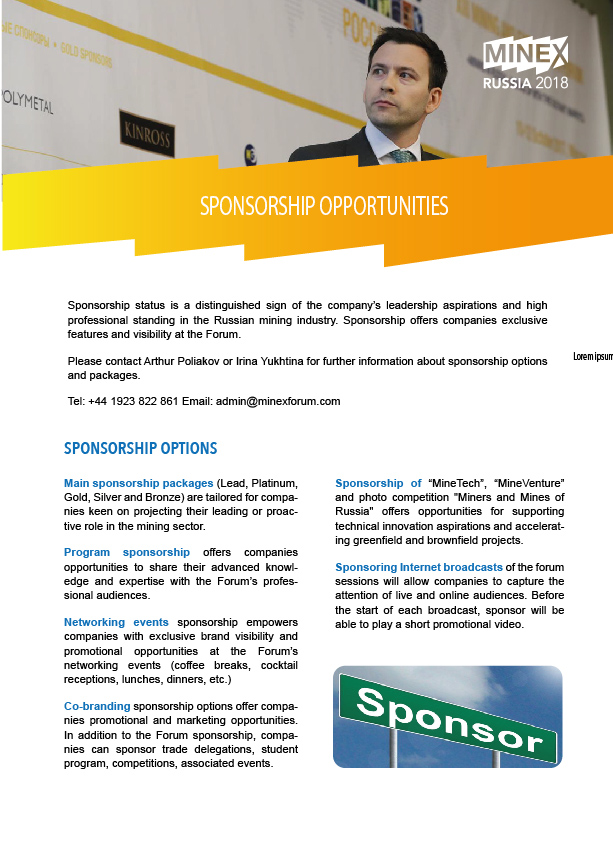 Sponsorship status is a distinguished sign of the company's leadership aspirations and high professional standing in the Russian mining industry. Sponsorship offers companies exclusive features and visibility at the Forum.
Main sponsorship packages (Lead, Platinum, Gold, Silver and Bronze) are tailored for companies keen on projecting their leading or proactive role in the mining sector.
Program sponsorship offers companies opportunities to share their advanced knowledge and expertise with the Forum's professional audiences.
Networking events sponsorship empowers companies with exclusive brand visibility and promotional opportunities at the Forum's networking events (coffee breaks, cocktail receptions, lunches, dinners, etc.)
Co-branding sponsorship options offer companies promotional and marketing opportunities. In addition to the Forum sponsorship, companies can sponsor trade delegations, student program, competitions, associated events.
Sponsorship of "MineTech", "MineVenture" and photo competition "Miners and Mines of Russia" offers opportunities for supporting technical innovation aspirations and accelerating greenfield and brownfield projects.
Sponsoring Internet broadcasts of the forum sessions will allow companies to capture the attention of live and online audiences. Before the start of each broadcast, a sponsor will be able to play a short promotional video.
Please contact Arthur Poliakov or Irina Yukhtina for further information about sponsorship options and packages.
---
[gravityform id="91″ title="true" description="true"]