The 14th Mining Industry Forum MINEX Russia 2018 will be held on 02-04 October 2018 in Moscow.
---
Forum events overview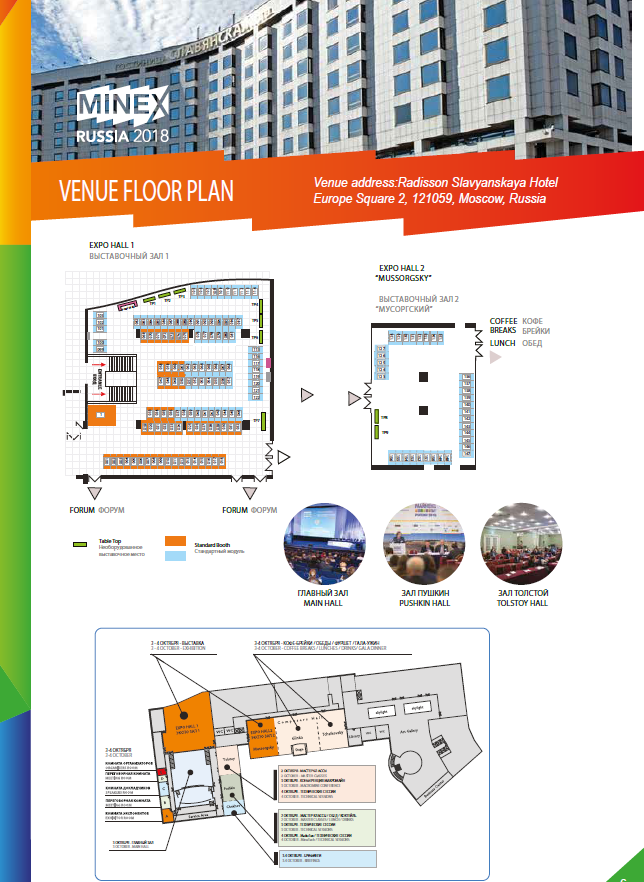 Master classes and seminars | 2 October
Before the official opening of the forum, a series of master classes and seminars will traditionally be organised, where participants will get acquainted with the advanced mining practices and processes. Master classes are designed for technical managers of mining and geological companies.
Forum – Exhibition – Associated events | 3 and 4 October
Leaders and technical specialists of mining and metallurgical companies, federal and regional government representatives, investment companies, industrial consortiums, service companies, manufacturers of equipment and software as well as legal and consulting companies traditionally take part in the forum and exhibition. The forum program features over 100 keynotes, plenary and technical talks presented by leading Russian and international experts. More than 50 Russian and foreign companies are expected to exhibit at the Exhibition organised alongside the Forum.
Russian Mining Excellence Awards | 4 October
The 12th Russian mining excellence award will be held within the framework of the forum offering the platform for assessment and presentation of mining excellence projects and cases. Awards will take place at the Gala dinner concluding the Forum on 4 October.
Photo competition "Miners and Mines of Russia" | 4 October
The amateur photography competition "Miners and Mines of Russia" will be organised for the 7th time offering opportunities for amateur photographers to demonstrate the diversity of the Russian mines, technologies, environment and people who are proud to be called "miners and explorers". Awards will take place at the Gala dinner concluding the Forum on 4 October
MineTech – competition of technological challenges and solutions | 3 and 4 October
MineTech competition is a novel way of winning new business and presenting innovative mining solutions in Russia. Within the framework of the competition, local mining companies will provide technical cases and challenges to be solved by professional vendors and mining universities. The winners will be determined by jury panels representing mining companies. The winners will be presented with valuable prizes and competition diplomas. At the discretion of the jury, winners can be offered a super challenge to implement proposed solutions at mining enterprises.
MineVenture – mining project accelerator competition | 3 and 4 October
The objective of the competition is to provide a platform for independent evaluation of early stage and developing mining projects and to discuss opportunities for their accelerated implementation with the assistance from investors and financial backers.
Associated Events | 3 and 4 October
The forum will provide facilities to companies interested in organising associated events and combining their participation in the forum with organising meetings and training events for local clients or vendors.
On 3 October within the framework of the forum, an annual roundtable will be held with the leadership of the Federal Agency for Subsoil Use (Rosnedra), where subsoil users can discuss "bottlenecks" and issues related to legal and regulatory practices in a constructive atmosphere.
On 4 October Micromine will be organising its traditional Users Conference.