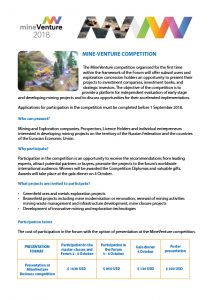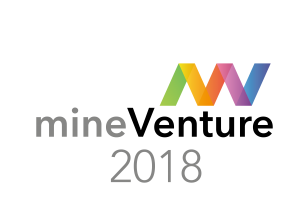 The MineVenture competition organised for the first time within the framework of the Forum will offer subsoil users and exploration concession holders an opportunity to present their projects to investment companies, investment banks, and strategic investors.
The objective of the competition is to provide a platform for independent evaluation of early stage and developing mining projects and to discuss opportunities for their accelerated implementation.
Applications for participation in the competition must be completed before 1 September 2018.
Who can present?
Mining and Exploration companies, Prospectors, Licence Holders and individual entrepreneurs interested in developing mining projects on the territory of the Russian Federation and the countries of the Eurasian Economic Union.
Why participate?
Participation in the competition is an opportunity to receive the recommendations from leading experts, attract potential partners or buyers, promote the projects to the forum's worldwide international audience.
Winners will be awarded the Competition Diplomas and valuable gifts. Awards will take place at the gala dinner on 4 October.
What projects are invited to participate?
Greenfield ores and metals exploration projects.
Brownfield projects including mine modernisation or renovation, renewal of mining activities, mining waste management and infrastructure development, mine closure projects.
Development of innovative mining and exploration technologies
Participation terms
The cost of participation in the forum with the option of presentation at the MineVenture competition.
Presentation format
Participation in the master-classes and Forum 2 – 4 October
Participation in the Forum 3 – 4 October
Gala dinner
4 October
Poster presentation
Presentation at MineVenture Business competition
$ 1030 USD
$ 950 USD
$ 130 USD
$ 300 USD
---
[gravityform id="103″ title="true" description="true"]