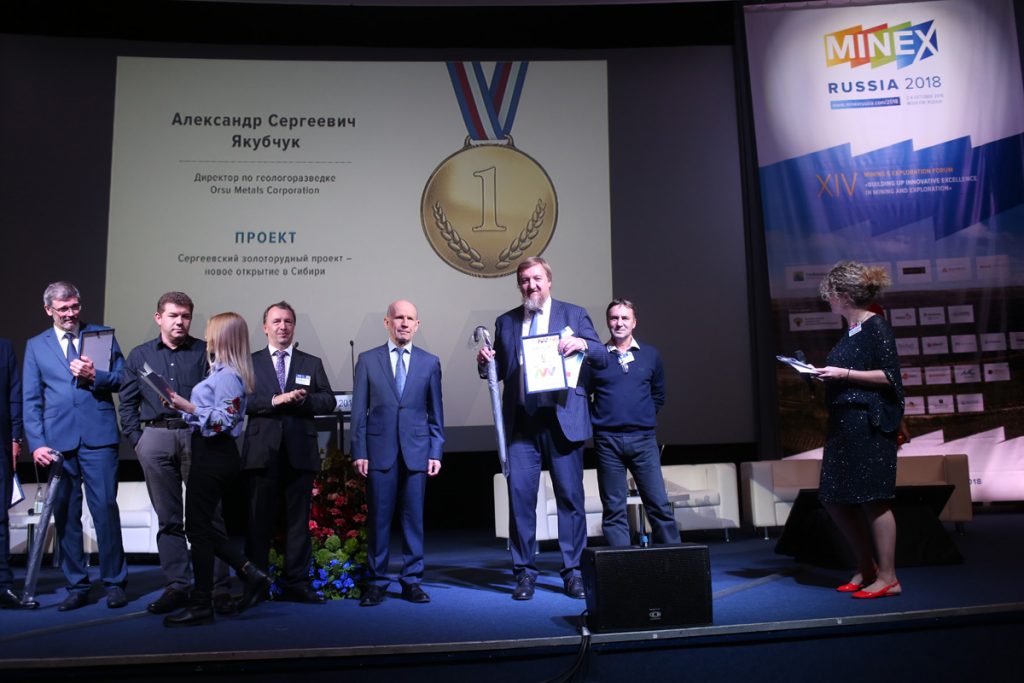 MineVenture Mining Project Accelerator Competition was organised for the first time alongside MINEX Russia Mining and Exploration Forum in Moscow.
Experts from Polyus Gold, Polymetal International, Highland Gold Mining, Nordgold, Arlan Investment Company, Russian Gold Producers Union, Prosperity Capital, Bacchus Capital, Eurasian Development Bank, AAR and others were invited to evaluate projects.
Orsu Metals Corp. won the gold award for its Sergeevskoye gold deposit project developed in the Zabaykalsky Krai. Orsu Metals explores Sergeevskoe gold project since 2017. The license area starts some 300 m west from the suspended open pit of the Klyuchevskoe gold deposit and 9 km east from the open pit of the Alexandrovskoe gold deposit. In 2017-18, the company drilled some 15,000 m and trenched 4,500 m at Zone 23, Adit 5, Klyuchi West and Kozie prospects. The identified gold mineralization forms two bands, 800 m long and 200-250 m deep each. Maximum gold-mineralized width (200 m) was identified so far at the Klyuchi West prospect. The average gold grade is 1.5-2.0 g/t Au. Orsu is planning to publish a JORC-compliant mineral resource estimate in Q4 2018.
The "Skytvarn Resources" won the silver award for its project of the development of alluvial deposits of a technical abrasive garnet in Murmansk region. The project impressed the jury with its bold mission to build cost-effective production of abrasive garnet to meet the needs of the domestic market which currently imports materials from Australia and India. Due to the low cost and high quality, abrasive garnet from the Murmansk region can also compete on the international markets.
The bronze award was presented to Terney Gold which is exploring for gold and silver in the north of Primorsky Krai. The jury members were impressed with the quality of the assets and flexible approaches Terney Gold is offering to new partners, lenders and investors.
Other projects were presented at the competition by Central Kola Expedition (Extraction of gold and lithium in the Kola Peninsula in the greenstone belt of Kolmozero-Voron'ya); DVGK and Golden League group (Developments Noni and Bolotistoe gold deposits in the Khabarovsk Territory), Mineral Exploration Network (Finland) Ltd (Logrosan – world class Au-W ore district. Ore district Logrosan is represented by intensive gold anomalies with a total length of more than 25 kilometres. Presence of hard rock gold mineralisation is confirmed by outcrop sampling, trenching and shadow drilling. The scale of mineralisation is comparable with world-class RIRGS deposits).
During the competition, participating companies had opportunities to meet with potential investors and receive professional advice on further projects development.
The winners were awarded the diplomas from MINEX Russia 2018 Organising Committee and received prizes from Polyus Gold and Skyeng English School.